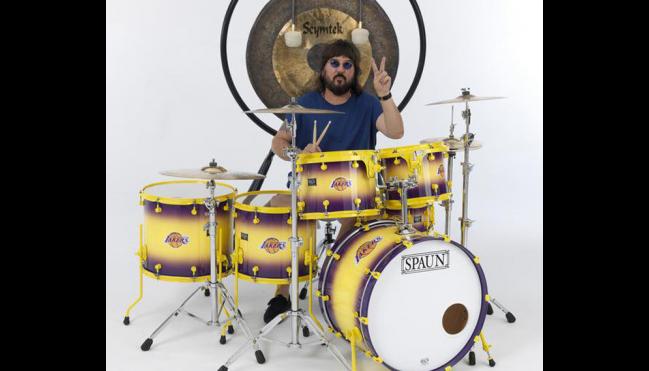 Xtreme 22" Ride
Xtreme 20" China
Vented 19" Crash
Xtreme 18" Crash
Hybrid 18" Crash
Modern 14" Hats
Vintage 19" Crash
36" Chau Gong
ABE PEREZ was born in Cuba. He also plays congas, cajon and other percussion. Abe started playing drums at 9 years old and professionally while he in Jr. High School. He formed an all original band, Yankee Rose, which was signed by Satellite Records and produced by Greg Geddes (of Todd Rundgren). Yankee Rose played shows with Van Halen, Quiet Riot and many other big bands. Abe has also played with John Nelson, (former Eddy Money guitarist), Sky Furies (a Vegas show band that was produced by famous producer HB Barnum [who produced Aretha Franklin, Tom Jones, et. al] and had a daily residency at the famous Roosevelt Hotel), "Come and Get Your Love" hit-makers Raven Hernandez of Redbone, Jimmy Espinosa and other members of Thee Midnighters.

Abe is endorsed by Spaun Drums, Scymtek Cymbals, Beato Bags, DB drum shoes and, most recently, Diamondback Drumsticks. In addition to the companies he endorses, Abe also maintains a good relationship with all music retailers, and, for many years has been a judge for Guitar Center's annual 'Drum Off'. He also worked as an independent drummer for hire in live concerts, touring and recording. Abe toured extensively and recorded on many albums. He is also a talented arranger and keyboard player and adds many of his ideas to Joanna Glass's songs in GLASSPIRITS, his current project.

Glasspirits is an LA-based musical duo. In late 2016, they had a soft release their debut CD, Mysteries of Rhythm, to promote themselves as a new band. In Glasspirits, Abe plays drums, congas, bongos, cajon, keyboards and other percussion. Joanna Glass sings, plays acoustic and electric guitar, bass, keyboards and electric violin. The music varies a lot from song to song and is very current with the styles of music out today. They are currently booking shows and shooting music videos to promote a wide digital release of Mysteries of Rhythm in the Summer of 2017.