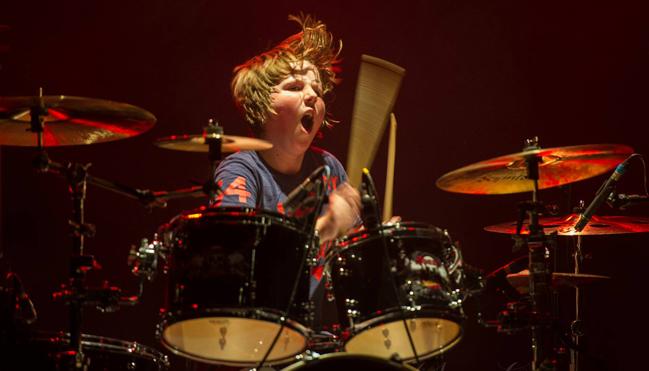 Charlie Emmons

ENGLAND- The Mini Band
14" Xtreme Power Hi Hat
10" Modern Splash
17" Modern Crash
19" Modern Crash
21" Xtreme Power Ride
16" Xtreme China
18" Vented Crash
Charlie Emmons was born on New Year's Eve 2000. He lives with his parents and brother in a small town called Thatcham in West Berkshire, UK.

Charlie started drumming in 2009 and after going to Newbury Rock School in early 2011, the director / owner of the school Leo Westby put together a band of 8 to 10 year olds, which included Charlie. The band was called The Mini Band.

The Mini Band spent the summer of 2011 gigging in and around West Berkshire. This included playing at the Bucklebury Beer Festival. At this gig The Mini Band's cover of Metallica's Enter Sandman was recorded on video and after being uploaded to YouTube, became an instant internet sensation; achieving over 1 million views in just a few weeks and getting to YouTube's number 1 slot.

As the video went viral, interest in The Mini Band spread worldwide and they made TV and Radio appearances in many countries including America, Russia, Germany, Australia and of course the UK, where the band were interviewed by Sky News, BBC TV and Channel 5. The Mini Band also featured in a number of on line magazines such as NME, Metal Hammer, Kerrang and many, many more.

In November 2011 Metallica themselves sent a video message to The Mini Band via the BBC congratulating them on their success! The Mini Band now has an awesome worldwide online following with their facebook page having tens of thousands of fans. The YouTube video of Enter Sandman also has nearly 5 million views.

Amazingly, Dream Theater also invited The Mini Band to spend time with them exclusively at London's Wembley Arena whilst on tour. Charlie spent time with Mike Mangini, played his stage kit and watched Dream Theater at their sound check and public performance.

Charlie and The Mini Band have been writing their own material; recording and videoing further online successes such as their first original track's 'Find The Time' and 'Aint No Other Way'. Put together the bands videos now have over 23 million views on You Tube. Their EP can be downloaded from www.reverbnation.com/theminiband

Charlie and The Mini band have appeared on the main stage at a number of UK festivals. They also reached the 2012 grand final of the UK's largest unsigned music competition 'Live & Unsigned' beating over 10,000 acts to appear at London's O2 arena. Feedback from the judges included:

"The Mini Band – Drummer is just amazing!"

"This is how it should be done!" E-Plus, Choice FM Presenter

Charlie has also been working with 'Vertigo Films' drumming in a 3D production called 'All Stars' which is due to be released nationally in UK Cinemas.

On a more personal level Charlie Emmons has been working really hard to improve the standard of his drumming and he is very proud to hold artist endorsements with Scymtek Cymbals, Spaun Drum Company and Los Cabos Drumsticks.