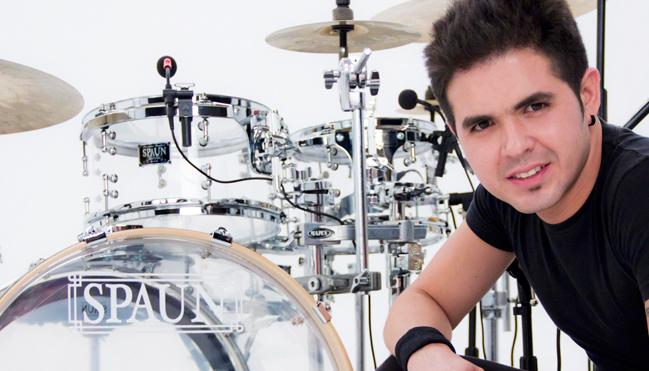 Enrique Escalante

MEXICO- Diego Verdaguer
Vented 16" Crash
Modern 18" Crash
Modern 19" Crash
Classic 20" Crash
Classic 20" Ride
Classic 14" Hi Hat
Classic 8" Splash
He was born in the city of Merida, Yucatan, Mexico on December 14, 1979. Starts playing the drums at the age of 12 under the direction of Juan Herrera. At the age of 17 he entered to The Conservatory of Music of Jalapa, Veracruz where he studied percussion. At the age of 20 he changes his residence to Mexico City, where he continues studying at Fermatta music school.

In the year of 2001 he enters as a musician drummer with Amanda Miguel and Diego Verdaguer and since then until today he has accompanied various artists such as: Mariana Ochoa (ov7), Victor García, Lupita D alessio, Adrián Uribe, Angélica Vale, Alexander Acha, Pee Wee, Ana Victoria, Yuridia, Paty Cantú, Eric Rubín, Marco Di Mauro, Reyli, Mane de la Parra and Miguel Cancel (ex Menudo)

He has also participated in various shows such as: Broadway Forever accompanying: Ana Cirré, Lolita Cortes, Héctor Sandarti, Lila Deneken, Cecilia Toussaint, among others.

In the program "Berklee canta en Español" accompanying: Benny Ibarra, Tommy Torres and Alexander Acha.

In the show called "Asesinas" in which participated: Amanda Miguel, Dulce, Rocío Banquells and in the "Grandiosas" show accompanying: Maria Conchita Alonso, Dulce, Rocío Banquells, Manoella Torres, María del Sol, Karina and Ednita Nazario.

In 2010 participated in the "Premios Juventud" and part of the tour in United States with the Group Camila, supplying drummer Rodrigo el Zurdo Ortega. In 2011 he participated in the opening of the concerts of Guns n Roses in Mexico with the singer-songwriter Poc under the musical direction of the guitarist of Guns n Roses Ron Thal (Bumblefoot)

He has made several recordings including, Amanda Miguel and Diego Verdaguer in concert entitled "El Mejor Show Romántico de América" made in the year 2007. In 2009 he participated in the dvd entitled "En Vivo" of Ana Victoria In 2011 he recorded a live dvd with Amanda Miguel and Diego Verdaguer called "Mexicanos"

At the end of the 2011 he recorded the last dvd "Pídeme" of the Argentine singer and composer Diego Verdaguer.

In parallel he made various recordings in Studio including: Anahi's song "Dividida", "Vive" of the Duet Marta Sanchez and Samuel, "Mi respiración" and "Vive" with Mane la Parra, Jamil Camil disc "Por ella soy Eva" and 5 tracks of the disc "Te acordarás de mi" of Eiza González.

He is currently drummer for Amanda Miguel, Diego Verdaguer, Mane la Parra, Marco Di Mauro, Miguel Cancel (Ex Menudo) and Reyli Barba.