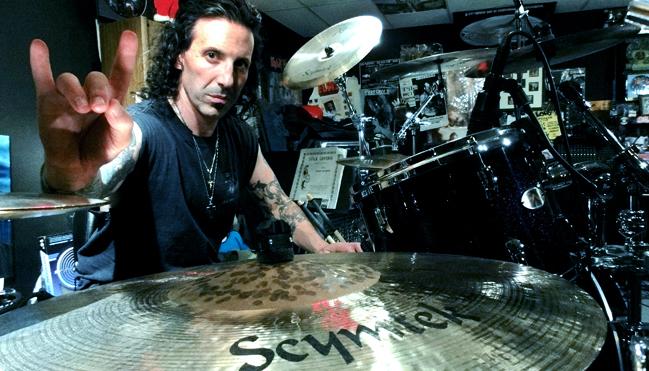 Norm Leggio

Psychotic Waltz, Nukem
Xtreme 15 Hats
Xtreme 14 Hats
Xtreme 22 Custom Mega Bell Ride
Xtreme 12 Splash
Xtreme 18 Crash x2
Xtreme 20 Crash
Xtreme 18 China
Xtreme 20 China
I started playing drums the usual way most kids do by banging on pots and pans, toy drum sets that you would get every Xmas, which would soon end up being destroyed. One day at the age of 10 my cousin Norm Azzarra gave me a Rogers jazz kit. He played professionally in Vegas, showed me a paradiddle, single and double stroke rolls.

One year later I started taking drum set lessons at a local music store. I quit the lessons shortly thereafter and started playing along to my favorite vinyl records, got my first double bass kit at the age of 15, and dreamed of being Cozy Powell. 1985 started studying with local instructor Pat Burke, Berkley grad. I consider my 5 years with Pat as what shaped me into the drummer I am today.

Started the band Aslan in 86 and by 89 we were called Psychotic Waltz released four critically acclaimed CDs
1990 a Social Grace
1992 Into the Everflow
1994 Mosquito
1996 Bleeding

We disbanded in 97 and then reunited in 2010 for the Power of Metal tour. Did various European festivals thru 2012, Keep it True, Bang Your Head, Rock Hard and headlining shows in Greece. We are currently working on a new Psychotic Waltz disc to be released in 2014.

I have also record and toured with the power metal band Cage-
2009 Science of Annhilation
2010 Rise to Power live DVD
2011 Supremacy of Steel

Toured Europe and the US, played festivals Progpower USA, Keep it True. Left Cage in 2013.

In 2013 I started Nukem with Steve Brogden ex Cage. Old school thrash, currently recording a full length album and playing select shows in San Diego. Tour to follow after release of debut album.

I love drums and drumming is my life. I have done various gigs in the music world. At one time I owned a record store for 15 years that was world famous called Blue Meannie Records. I co-hosted a heavy metal radio show for 8 years called Another State of Mind on San Diego's Rock 105 FM. Taught drum lessons.

Currently have an 11 room rehearsal facility that I manage and lease to professional bands. I've had many high end cymbals through the years. None of them compare to the sound, the beauty and uniqueness of my Scymtek cymbals. Whether on stage or studio, I get a lot of compliments on the sound and look. Check out my custom one of a kind mega bell Scymtek ride!