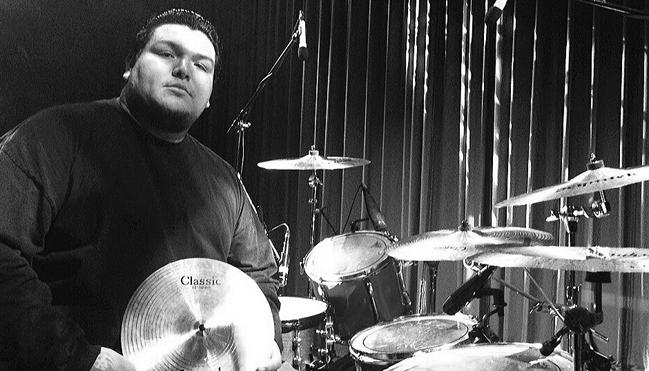 Salomon Gutierrez

Independent
Classic 14" Hi Hat
Classic 14" Crash
Classic 16" Crash
Classic 17" Crash
Classic 18" Crash
Classic 19" Crash
Classic 6" Splash
Classic 8" Splash
Classic 10" Splash
Classic 12" Splash
Classic 16" China
Classic 20" Ride
Vented 16" Crash
Born and raised in San Francisco, CA in the late 80's the same era that still influences musically today, Salomon grew up and was exposed to the world of music way before he could even walk. His first set was given to him at the age of 1 and it took off full speed from there, his first teacher was his grandfather a church pastor/drummer he would let Salomon sit behind him onstage while he played. So naturally his first gigs started off in his parent's church in SF and from there he gradually began play at more and more churches up to 3 each Sunday. He met other known bay area musicians, extending his musical knowledge learning everything visually and by ear with the help of other drummers he met along the way and by watching live concerts on VHS. He made his first television appearance on Telemundo with his middle school's Jazz Band at the age of 15, and at the age of 18 recorded drums and co-produced a Spanish Christian album titled Eres Todo Para Mi (Jose Luis Arenas). As the years went by he traveled all over Northern and Southern California even all the way to Central America playing at jazz festivals with famous local bands in Managua and opening for known Christian music artists and bands such as Danilo Montero, Abel Zavala, Miel San Marcos, and many more. He is currently playing with Justo a Tiempo a Spanish Christian Pop Rock/funk band, and does independent work on the side. He's now recording his solo EP album and is planning future Jazz festivals events in Nicaragua.

TV Appearances:
Telemundo, Canal 10 (Nicaragua), Canal 2 (Nicaragua)

Band:
Justo a Tiempo

Tours
Managua (Nicaragua)
Granada (Nicaragua)
San Marcos (Nicaragua)
Ciudad Juarez (Mexico)
Modesto (CA)
San Francisco (CA)
San Rafael (CA)
Delano (CA)
San Jose (CA)
Los Angeles (CA)
Long Beach (CA)

Influences
Alvaro Lopez, Randal Gonzalez, Dave Weckl, Vinnie Caliuta, Dennis Chambers, Chad Smith, Horacio Hernandez, Marco Minneman, Big Mike Clemons, Buddy Rich, Alex Acuña, Sheila E, John Blackwell, Dave Garibaldi, Billy Cobham, Jojo Mayer, Steve Smith, Jeff Porcaro, and Tony Royster.