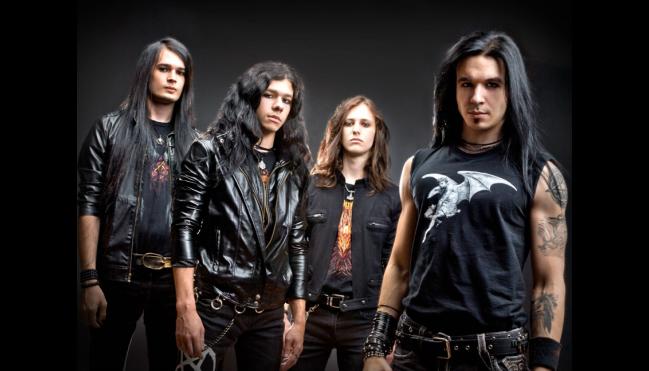 Xtreme 16" Crash
Xtreme 18" Crash
Xtreme 10" Splash
Xtreme 18" China
Xtreme 14" Hats
Foundation and Fires of Life (2012-2014)

Founding members, and brothers, Parker Jameson and Spencer Weidner had been writing material since their early teens, yet had difficulty putting together a full band due to the lack of like-minded, capable musicians in their hometown. Because of this, Parker enrolled at Indiana University, hoping the school's music program would expose him to musicians with similar aspirations.[6] Shortly after beginning his freshman year at Indiana University, Parker met guitarist Charlie Federici. The two discovered that they shared similar musical influences and goals, and with the addition of Charlie, the core of the band was formed.

The three began writing and performing material under various names in the Indiana and Midwest regions, eventually attracting the attention of Century Media Records in early 2012 while subsequently and permanently settling on the name "Starkill". The band began recording their debut album at Electrowerks Studios that summer, and announced their signing with Century Media months later in December.[1][2] Their debut album, Fires of Life was released in May 2013 and then the band toured around North America and Europe.

Virus of the Mind (2014-present)

On April 11, 2014 Starkill released a music video for "Sword, Spear, Blood, Fire" and announced plans to record a new album at Electrowerks Studio with producer Chuck Macak with an expected release date in the fall of 2014.[7] On July 17, 2014 the album artwork, title and release dates were revealed for the album, titled "Virus of the Mind". The scheduled release dates were October 14, 2014 in the USA and Canada and October 20, 2014 in Europe, Australia and New Zealand.

On August 7, 2014 the first song off the album, "Breaking The Madness", was released on the Century Media Records YouTube channel, as well as the track listing and lineup of the album.[9] A video discussing the recording of the album, dubbed "Creating The Virus - Part 1" was released on August 21, 2014,[10] followed by a second video, "Creating The Virus - Part 2" on September 17, 2014.

The first video off the album "Before Hope Fades", was released on YouTube on October 2, 2014[12] and on October 13, 2014 Virus of the Mind was made available for streaming on nocleansinging.com.[13] Virus of the Mind was released on October 14, 2014 in the USA and Canada and on October 20, 2014 in Europe, Australia and New Zealand.[8][14] On November 6, 2014 a lyric video of the title track "Virus of the Mind" was released.