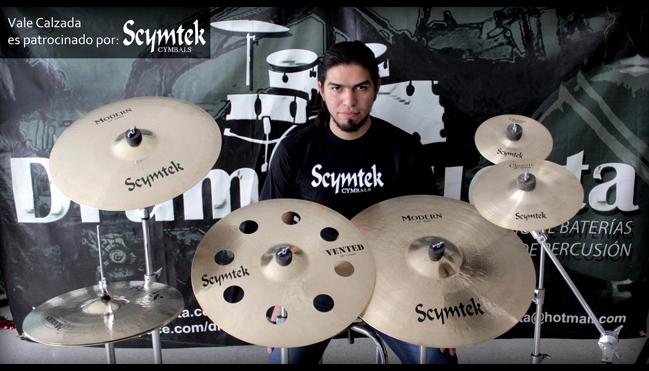 Vale Calzada

MEXICO-Drumquesta
Modern 21 Ride
Modern 14 Hats
Modern 16 Crash
Vented 18 Crash
Classic 12 Splash
Classic 8 Splash
Drumquesta born at the initiative of three young musicians Leon seeking to promote not only drums and percussion instruments as accompaniment but also as soloists and ensemble. Drumquesta is a group responsible for disseminating music for percussion works composed by both international and local contemporary composers , for their own members . It also integrates a diverse and varied other instruments in each of its programs , achieving a fairly complete and sound timbre and full connection between its members, guest musicians and the public.

Its members Calzada Valentine Ledesma , Ulises Hernández Rodríguez and Eduardo Perez Urquieta have worked together over 7 years performing in forums such as the María Grever Teatro , Teatro Manuel Doblado , Founders Square , Lion Zoo , State Fair Parade Lion and November 20 , Art Fair , Parque Explora, International Balloon Festival as well as festivals and contemporary Polynesian dance among others , becoming Drumquesta in 2008 , having its first concert on September 21 at the Lyceum Music Lion Guanajuato.

Participated in León Art Fair and Festival Sunday in Mary Grever theater on March 22, 2009 . Scholarship Recipients artistic production and dissemination 2009 by the Instituto Cultural de León . They collaborated as guest artists in the music production flutist Gabriela Figueroa Ruvio "Through the wind."

In May 2010 toured the state of Guanajuato , visiting places such as Santa Ana del Conde, Tarandacuao , Acambaro , Guanajuato Capital , Salamanca , Silao and León. In October 2010 they made several presentations for 3 consecutive days at the 6th International Festival of the Arts Lerdo Durango.

Participation in the 2011 art fair.
Participation in Fenal 2011 in the Court of the stories.
Participation in the 3rd Festival of Contemporary Art in San Francisco del Rincón 2011.